Spice up your blog with videos!
Posted in Blogging Tips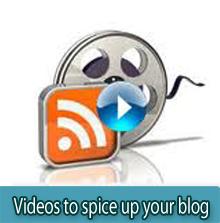 Nothing to argue, if an image is worth a thousand words then a video would worth a whole lot more! In the last post, we discussed how images make your blog posts more alive and attractive to readers and where you can find them. Now we will discuss about how videos will make your blog more professional and catchy to readers.
Videos are by far the most direct way to tell or express your messages to your readers. Even a brief video can tell exactly what you want to convey to your readers. Below are some ideas how you can benefit from videos:
It boosts Accountability
Indeed, videos make your blog look more accountable. By having a video content on your blog (such as a video post or just a simple audience greeting), your blog will get more impact from readers than when you write them.
It adds personal touch
Yep, a video post adds a personal touch to your blog and make it more of something that is truly unique to your blog only and thus making your blog look more branded.
It attracts more feedback
Having a video to convey some special event (a contest perhaps) on your blog makes it more appealing than when you just write it down. It attracts more feedback from your readers especially if your good on communicating and relating to them.
It boosts a call to action
Absolutely! A content video will dramatically improve your call to action. Consider this: you are promoting a product on your blog and you want to convince your blog audience to take the product, isn't it more attractive and convincing to convey your message through a video than writing it down on?
Well, a video will surely help you spice up your blog and add a personal touch to it. Videos are worth the effort to communicate more effectively with your audience, so you could try it out and make your blog more alive by adding videos appropriate with your blog's niche
Tags: how, videos, help, blogs, video, blogging, tips, blog, tip