The benefits of guest blogging
Posted in Blogging Tips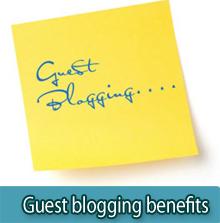 Guest blogging is simply just the notion of writing a post on someone else's blog. At first thought, you might think that guest blogging would only benefit the host but actually, it is giving you a lot of advantages.
-Build links
Backlinks (or links coming from other sites to yours) is essential to every site's search engine optimization. Most of the time, bloggers offer incentives such as a backlink for guest posting on their blog. And with this you can take the advantage of creating a link wheel and boost your site's ranking. Be sure though that the site you are guest posting on is credible and has a high or good rankings in search engines.
-Build up your profile
By guest blogging, you are building up your reputation as a blogger and in return will give you more credibility and improve your people's awareness of your blog.
-Become a better blogger
By guest blogging, you are enhancing your capabilities in writing. Reaching to new audiences is not that easy and by guest blogging, you can experience new challenges and in return makes you more adept at conveying your message to audiences.
-Makes your marketing campaign more viral
Guest blogging gives you a great advantage at promoting your product or brand campaign and get more leads that actually converts. Guest blogging opens you to a wider door and thus having your product go more viral.
-Build a network
Guest blogging opens the door for you to meet bloggers just like you. You can take this up as an edge by having a business partner to network your blog to and reach a wider audience.
-Generate traffic
Of course, if you have the all the backlinks and a wider reach of audience then that means more quality traffic for your blog. By guest blogging, it saves you from the effort of adevrtising your blog and gives you the benefit of really making a community that stick with your blog.
And there you have it! Those stated above are just some of the benefits you could get by just guest blogging to other people's blogs. Up next is how you could really make them want you to write on their blog.
Tags: guest, posting, blogging, tips, benefits, blog, tip, seo, backlinks, from