Promote your blog to the top!
Posted in Blogging Profit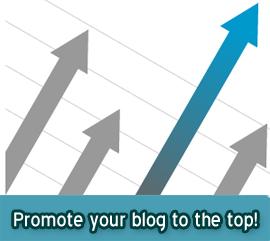 Been into serious blogging and wanted to take a return investment from all your efforts? If your blogging about your company, your products, your services or if you just blog about stuffs that you want to share, You might be thinking that even a little recognition of your effort and a return profit from your investment would be the best feeling you could achieve in blogging.
And that's right! We want people to know and recognize our blog and get the profit from doing so.
But if you have done your effort, did what's seemed to be right and get's only a little recognition or even nothing at all, ALL of your efforts would just turn out to be worthless.
Do you want to promote your blog to the top? But finding it real hard to do so, since your afraid that your investment would just turn out to be "another money thrown into the trash". Then Blogtopsites Blog category sponsorship is for you!
Get to the Top! Reach over 3 million visitors every month.
Sponsor a category and get the exposure you and your blog deserve.
-Your blog will be placed at the top of the results within it's category.
-You get increased exposure, more traffic and more followers.
Only 5 spots per category are available! So hurry while it lasts!
Features:
Listing in the area "Highlighted Blogs" at the top of each page within your blog category.
Listing in the site details of same category
Rotating listing in the featured blogs on main page http://www.BlogTopSites.com
Rotating listing in dashboard, tags and posts areas.
Direct links to your blog (instead of your blog details page)
And the prize? Well you can get all of this for only $24.95/month!
How it works:
1.Login to your Account
2.Go to "My Blogs" section
3.Select the blog you wish to advertise
4.Make payment through Paypal
5.Your Blog will be reviewed by our staff and an email will be sent to you once your blog campaign has been activated.
Isn't it that easy to promote and get you and your blog recognized? Then if you want to take this chance..
Tags: promote, blog, blogger, tip, blogging, sponsor, get, the, top, promotion