Essential Wordpress Utilities
Posted in Blogging Tips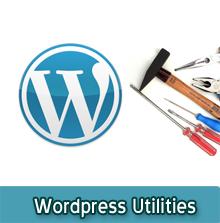 Ok, Here we are, the last part of the essential Wordpress plugins blog post series. In this post, we are going to discuss the plugins that are essential to help you administrate your blog. We'll be discussing Wordpress plugins that serve as utilities for your to use.
Been using a lot of buttons and notification boxes on your blog? Well, WP Utility Short Codes easily insert nicely styled message boxes and download buttons into your posts with simple to implement WP shortcodes.
Redirection is a WordPress plugin to manage 301 redirections, keep track of 404 errors, and generally tidy up any loose ends your site may have. This is particularly useful if you are migrating pages from an old website, or are changing the directory of your WordPress installation.
Well, if your an active blogger, you might have heard or might have even use this plugin already. This plugin adds a more advanced paging navigation to your WordPress site. It helps you and your readers to easily navigate to your blog.
Been linking out to a lot of different sites on your blog? Well, this plugin will help you make your blog look cleaner by saving you not to write down those long links.
Planning to have a blog post series on your site? Well, the Organize Series plugin will help you through organizing your blog posts that are part of a series. And gives them a specific page where your readers can access to and read them one by one.
If you're having a lot of different contact forms on your blog, then you might indeed consider using Contact Form 7 plugin. Contact Form 7 can manage multiple contact forms, plus you can customize the form and the mail contents flexibly with simple markup. The form supports Ajax-powered submitting, CAPTCHA, Akismet spam filtering and so on.
Well, that's all of them for now. These utilities will surely ease the way you administrate your blog and gives you more time to focus to the real thing, which is blogging.
Tags: wordpress, plugins, utilities, blogging, tools, blogger, blog, tips