BlogTopSites is the latest Facebook app!
Posted in Blogging Tools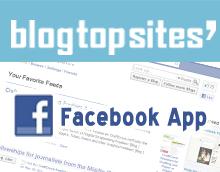 Ever wanted to get connected to your favorite blogs and receive updates on your facebook account? Well, BlogTopSites launches it's Facebook app. Now you can take the whole blogosphere on your Facebook!
Here at BlogTopSites, we are trying our best to give out cool, new, and useful tools for you to use. And now, with the BlogTopSites Facebook app, you can Explore blogs, follow your favorites, read feeds and add your blog easily on Facebook. So in case you want a tour of it's awesome features, then that is what this post is all about.
Your Favorite Feeds
Be updated and read recent updates from blogs you follow and like easily! BlogTopSites' new Facebook app features a non intrusive way to read your favorite blog's feeds.
Browse and explore the blogosphere
BlogTopSites' facebook app also features a full blown blog directory. You can easily browse blogs by it's categories, language and popularity.
Like and Follow
Want to get the latest updates from a blog? Just follow it and you'll get the latest feeds straight to your dashboard. Liked a blog? Show some appreciation by clicking the like button.
Trending Topics
At the bottom part of BlogTopSites' facebook app, you will see a trending topics box. It's useful if you want to blog about trends that people are talking about.
Lookup feature
In case you're up for finding posts and blogs, it's a tool worth using for. It gives you an easy way to search for posts that matches to the topic you want.
Register a Blog
Of course! How would a blog directory be a directory without having this function? With these, you could easily add your blog to be explored by other bloggers.
That's it folks! The latest addition to BlogTopSites awesome features. It'll surely makes you more connected to the blogs you've been eyeing on and makes it easy for you get connected to them.
Tags: facebook, app, blogger, tools, blogging, blog, apps, social, media