Blog Posts - 80's Television

Thanks for viewing my blog. It has been awhile since I posted. Sometimes life throws a curve ball and we knock it out of the park. Sometimes it's a knuckle ball and we swing and miss hard. If you ended up here then you caught me in the middle of re-e...

This weekend was a pretty wet one around the Treasure Coast. This may have caused some garage sales to be canceled on part of the weekend and some just ended earlier than normal. So, unfortunately, no unique items to talk about here. I did get a chan...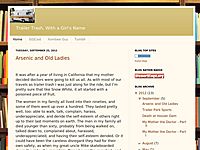 It was a grand strategy that was doomed to fail. Like Hannibal crossing elephants over the Alps or Philip II's Spanish Armada--it really should have worked.In every house there is a favorite child, often the firstborn, who gets the best stuff first...