Blog Posts - Acrylic Storage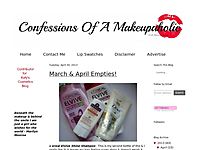 I have another little makeup storage bargain to share with you today! I picked up this clear acrylic box a while back & I've gotten so much use out of it since. It comes with four drawers, two small ones & two large ones. I have my high...

i have made a very sneaky purchase i have made a very sneaky but AMAZING purchase ladies and gentlemen - boys and girls i introduce to you glambox! glambox is similar to the kardashian clear cube but is under half the price and available to us in t...

i love storage. storage storage storage. and what do i love more then organising? buying storage boxes! if you remember back to the post i did a while ago on the muji box i got for organising my lipsticks (post can be found here) this box is pretty m...