Blog Posts - Affiliate Window Black Friday is over . It was a very busy day and as reported by Affiliate Windows last Friday sales increased by 510% compared to an average Friday. Revenue was up 504% on an average Friday. This year Blac Friday was bigger than expected. At around...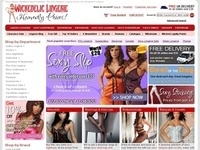 Wickedelic Lingerie has announced the launch of its affiliate program in partnership with Affiliate Window, the UK's leading independent affiliate marketing network. The new program will allow e-marketers, website owners, bloggers and others wi...