Blog Posts - Anna Lou Of London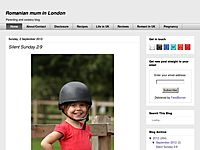 As you might already know from reading this blog it was my eldest girl Kara birthday a couple of weeks ago. She turned 5 and she is more of a little lady than ever. She received lots of presents from... [[ This is a content summary only. Visit my we...
Ever wanted your own name necklace? popularised by Carrie from Sex and the City, almost every celebrity has one - from Paris Hilton, Lindsay Lohan, Katy Perry, and a new trend seems to be with the celebrity mums wearing their children's name necklace...