Blog Posts - Aptamil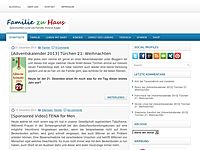 Als Eltern hat man vor und nach der Geburt eines Kindes viele Fragen. Besonders beim ersten Kind. Still ich mein Kind oder gebe es ihm Flaschennahrung? Was sind die Vor-und Nachteile? Wenn ich mich für Flaschennahrung entscheide, welche Milch...
(PRWeb UK) May 17, 2010 The use of pregnancy and baby websites has grown phenomenally within the last decade, as studies show mums are turning to the internet more and more for information related to their babys development. Recent research...
(PRWEB UK) 12 October 2011 Worldwide baby nutrition specialist, Aptamil, has joined Facebook and Twitter in response to their audiences growing interaction with social media sites and their avid use of the internet via smartphones. Their presence in...