Blog Posts - Article 29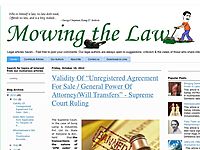 In the land mark case of Indra Sawhney, Supreme Court laid down that reservation should not be more than 50%.While the famous case stands to be constitutionally correct, the Rajasthan Government gives 68% reservation to Guj...
Does it feel like nothing is private anymore? Is it generational? Cultural? What does it mean for getting hired or fired? What is people search? What is locational privacy? What are the laws? How can you protect yourself in today's VERY transparent...