Blog Posts - Auto Trophy

The PCA Porsche Parade was a little while ago and Beverly Hills Porsche posted this photo with the caption "Trophy Wife". It appears to be a restoration plaque with a Porsche in gold below. I'm not sure who won or where it's goin...

918 Spyder and 911 Carrera models secure wins in the Auto Trophy 2013 awardsStuttgart. Sportscar manufacturer Porsche has emerged as a triple winner in the Auto Trophy 2013 awards: Around 100,000 readers of specialist magazine "Auto Zeitung"...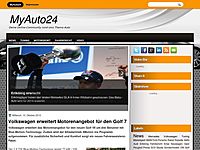 Die Sieger der 26. Auto Trophy 2013 stehen fest. Mehr als 100 000 Leser der "Auto Zeitung" haben ihre Wahl getroffen und über die Vergabe des begehrten Auto-Goldes entschieden. Die Wähler haben die Chance einen der Preise im Gesamtwert von r...
AMGmarket.com News: SOURCE/Affalterbach – Almost 70,000 readers of German car magazine "Auto Bild Sportscars" submitted their votes to make winners of both the SLS AMG and the E 63 AMG. The SLS AMG took first place in the category ̶...