Blog Posts - Auto Zeitung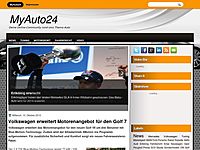 Die Sieger der 26. Auto Trophy 2013 stehen fest. Mehr als 100 000 Leser der "Auto Zeitung" haben ihre Wahl getroffen und über die Vergabe des begehrten Auto-Goldes entschieden. Die Wähler haben die Chance einen der Preise im Gesamtwert von r...
AMGmarket.com News: SOURCE/Affalterbach – Almost 70,000 readers of German car magazine "Auto Bild Sportscars" submitted their votes to make winners of both the SLS AMG and the E 63 AMG. The SLS AMG took first place in the category ̶...