Blog Posts - Bad Spacing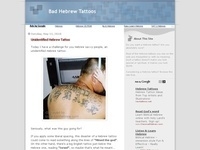 Today we have a Hebrew tattoo of something unusual, the Daddygirl. I guess Daddygirls happen when men who have children undergo sex transformation? Well, here's one of these rare creatures, boasting her trans-gendered fatherly pr...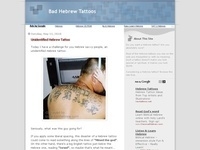 Today we witness a sad Hebrew tattoo indeed. Not only is our victim apparently a Smurf, but his tat is seriously misspelled too. This guy wanted "King Jesus the Messiah", and he even managed to get his grammar right. The sentence makes perfect sens...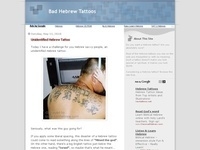 For some, getting a plain old Hebrew tattoo is not enough, they just have to be creative. Check out Puzzle Girl here, can you tell what she was going for?This genius of creativeness got 3 random words, but she couldn't write them right-to-left like n...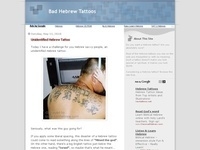 I've had quite a time deciphering this recent Hebrew tattoo that was kindly pointed out to me by Reut. Can you guess what it says?Well, the first word that stands out is the one on the bottom, "Hochma" - wisdom in Hebrew. Yes, it's written backwards...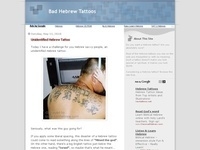 This Hebrew Tattoo is pretty fresh, just came across it last week. The victim was going for a biblical reference "God of my Salvation", straight from Isaiah 12:2."God of my Salvation" - El Yshuati in Hebrew, are two words. Do you see two words in thi...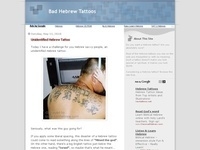 I have no idea what this one is supposed to be:This Hebrew tattoo basically spells out: "Skeleton from Isdael", but without the spaces.Did he mean "Skeleton from Israel"? That could somewhat explain why the Hebrew language was used. However, just by...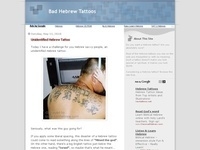 According to Wikipedia, "This Too Shall Pass" is an expression taken from a Jewish folktale about King Solomon. To this guy, apparently, it means a lot, as he decided to tattoo the expression in Hebrew, on his ribs.I find it a bit ironic that a perma...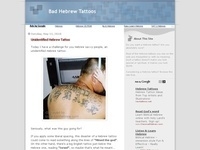 I guess some Tattoo Artists just have no scruples.A customer comes into your tattoo salon wanting some words done in Hebrew. You don't know Hebrew, but worked on some Hebrew tattoos here and there, so you can surely manage! $50 please.This guy though...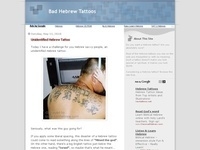 Today we have a true feat of originality.This girl wanted the expression "We are all born unique, but most die a copy", written in Hebrew across her back. Those of you who regularly visit Bad Hebrew Tattoos can probably tell, this kind of thing never...