Blog Posts - Barry Wise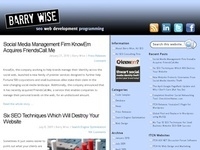 Sometimes it just seems easier to point out what your clients are doing wrong rather than work at explaining all the different ways to do it right. So here are six SEO Techniques I've noticed which will destroy your website, blog, or shopping cart s...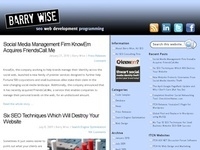 This morning I put the finishing touches (is it ever really finished?) on the new Wordpress theme for this blog. This isn't exactly earth-shattering news, but I haven't had a chance to write another decent blog post with everything that's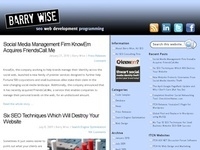 I watched a pretty funny ustream broadcast last night about SEO and affiliate marketing with Streko and Sugarrae. For about 4 hours they laughed and drank and talked about a whole bunch of topics, but the key points I came away with are 1) Streko's.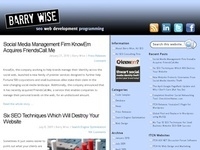 Well, it's my birthday today and I just found out T-Pain (featuring DJ Khaled) gives a shout out to me in his new song Karaoke right on the second line of the song! It's on his album Thr33 Ringz which just dropped last week. Nothing says &quot