Blog Posts - Batik Carnival

Sudah banyak blogger Indonesia yang menulis tentang artikel wisata atau artikel yang menyangkut tentang daerah tempat tinggalnya. Dan saya mungkin salah satunya, yah.. Walaupun memang tidak di setiap artikel  berunsur jalan-jalan, tapi beberapa arti...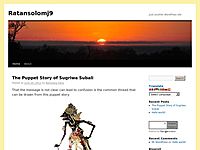 Carnival is the theme of batik. The materials used for the participants were also batik. 2008, 2009 and 2010 show is capable of absorbing hundreds of thousands of people. SBC was held to raise the image of the city of … Continue reading →...