Blog Posts - Being Polite It's a common misconception that being kind to yourself is well, a little self-indulgent and ridiculous but it's quite the opposite when you think about it, the kinder you are to yourself, the more accepting you are of you, the more energy and time y...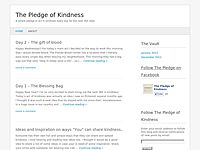 Back in January, on day 23 to be exact, it was my act of kindness for the day to smile at 37 different people. I was really surprised at the response I received on that day from every single person I encountered….everyone smiled back!! I...