Blog Posts - Blackmouth Cur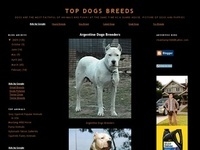 Blackmouth Cur is "a dog that is multitalented. Primarily BMCs are herding dogs able to hunt big or small game, and still be loving, gentle family dogs willing to protect the home. Black Mouth Curs are great family dogs. They are great social dogs if...
Blackmouth Cur DogBlackmouth Cur Puppies...