Blog Posts - Bonmarche
I'm delighted to bringing you a giveaway in conjunction with Bonmarche. The new collection has just launched and there are a few gems in there. I'm loving this Biker Jacket for example… A soft and feminine version of the classic sty...
  This season's customer favorites:   Bonmarche always strives to provide the perfect range of clothes for its customers every season, and this summer has been no exception. Judging on what customers have been buying, the theme this year has...
Raise your hand if you were subjected to that crap about not wearing horizontal stripes if you're fat. If you're inclined, now turn towards the direction must of it came from, and leave up only your most offensive fingers. Amen. Put your hands do...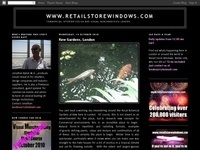 We haven't always warmed to BonMarche in the past, although we love the food department here. Anyway, with their slightly bizarre video windows we just had to share this with you. We've uploaded a video of this scheme on You tube to...