Blog Posts - Bounce Rate
So I've been doing this particular blog here for a little over a year (counting before switching to self-hosted), and, well, to be frank, the comments and subscriptions just aren't coming in at a high pace.  It used to be, … Contin...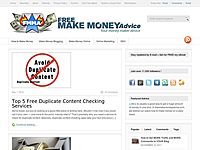 So you started a blog or you already have one, then you know that if you want to become a successful blogger and increase traffic to your blog, there are a lot of things that you should take care of : SEO and Internet Marketing, for example. Increa...