Blog Posts - Boys Of Straits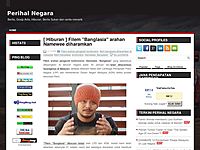 Boys Of Straits (B.O.S) mungkin antara kumpulan penyokong bola sepak paling bertuah di negara ini kerana mendapat pengiktirafan cukup hebat daripada persatuan bola sepak yang mereka sokong.Buat julung kali, kumpulan penyokong bola sepak seperti itu a...
Salam Hormat. Setelah SEKIAN LAMA Penantian yang di nantikan akhirnya dapat juga aku Tiket Final Piala Malaysia 2014! Ahaks~ Korang pergi Stadium Nasional Bukit Jalil? Sudah beli Tiket Final Piala Malaysia? Sebenarnya secara "KEBETULAN" d...