Blog Posts - Breakfast Item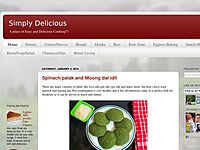 I love this delicious,bright yellow savory,snack dish from Gujarat, I learned to make this dish long back from one of my Gujarati friend.Making khandvi takes some practice to know when the batter is cooked to the correct consistency.Ingredients:Besan...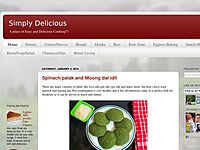 Aloo Paratha is one of the most popular paratha in North India,this spicy potato stuffing paratha will take a little practice to get just right.you can make this for breakfast,lunch or dinner,serve hot with curd or pickle.Ingredients:Atta(whole wheat...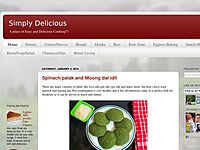 Whenever I think some healthy breakfast, always comes in my mind is oats.Nobody likes eating oats with milk at my home,so i always try to make different recipe with it.I'll share more recipe later.This instant version of oats idli is very healthy and...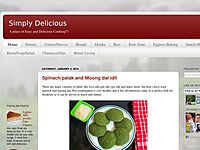 There are many varieties of idlilis like rava idli,oats idli, rice idli and many more. but here i have used spinach and moong dal,This combination is very healthy and it has all nutritious value. It is perfect dish for breakfast or it can be served i...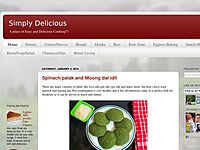 This simple dish can be made quickly and easily,it can served as a delicious appetizer,evening snack or breakfast.kids would definitely love this so try out this crispy appetizer. Ingredients:poha(beaten rice)-1 cuppotato-2 medium(boiled,peeled...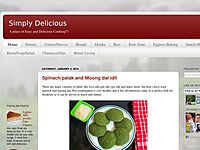 Masala poori is a very quick and easy to make snack or breakfast and tastes great with any pickle or dry potato curry ,you can add flavor as per your choice like carom( ajwain seed),crushed black pepper etc. and try to serve hot so taste will better.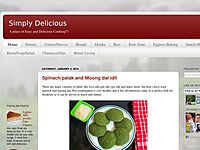 Dosa is very popular snack or breakfast item from south India. Traditionally dosa made with rice and urad dal.it takes lot of time and patience.but i got this recipe from my sis-in-law; since then i prepared frequently in my house Try out this e...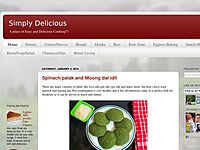 Corn and methi kabab is very healthy,delicious and preparation is quite easy, made with corn,methi and potato.Try out this flavorful and perfect tea time snack.Ingredients:Corn-1cup( boiled & mashed) Methi (fengureek leaves)-1cup finely choppedPo...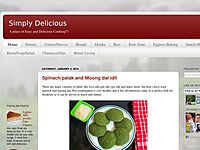 This is the perfect way of using leftover idli. It is very yummy in taste and very quick to Make as well. It can be made for school snack for kids.Ingredients: Idli-5-6Onion-1(chopped)Bell pepper-1/2 cup (chopped all color)Mustard Seed-1/4tspHin...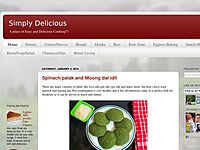 Oats upma is a very healthy upma for breakfast, Or can be make It for evening snack. Its very low in calories & high in iron and fiber. It can be prepared in a jiffy.Ingredients: Oats-1cuponion-1 finely choppedBeans-1/4 cup choppedCarrot-1/4 cup...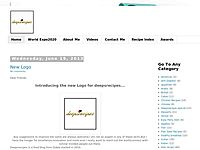 Ingredients Fine Rice flour--1 1/2 cups Yeast- 1/2 tsp dry yeast Coconut milk- 2-21/2 cups. salt-2 pinches Sugar-2 tbsp Cooked rice-2 tbsp Grated Coconut -2 tbsp Method of preparation 1.... http://feeds.feedburner.com/DeepsRecipes...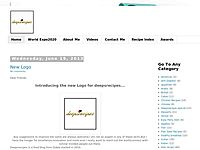 Here is a small variation from the usual Crepe recipe.Crepes are really a quick and easy breakfast item. Here crepe batter has been enriched using whole meal and wheat... http://feeds.feedburner.com/DeepsRecipes...