Blog Posts - Cameron's Cull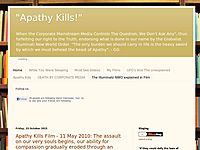 Tiptoe Totalitarianism and the Eugenics Genocide Next time you hear someone try to justify welfare cuts, remind them of the blood they have on their hands, since they would rather have their taxes spent on weapons that have killed and destroyed the...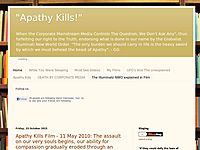 A Demonstration of the Outrageous Hypocrisy Of The UK Media in Abandoning its Citizens in Despair Channel 4 News anchorman, the immature and sycophantic Jon Snow is hard to stomach most of the time. But, this was a blatant insult to injury...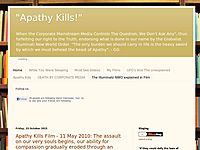 Britain in 2013 HUNGRY SCHOOL CHILDREN ARE BEING FED BY SYMPATHETIC TEACHERS. SUICIDES ARE RAPIDLY ON THE INCREASE AND UNREPORTED. A MAN HAS TO GO ON HUNGER STRIKE IN A DESPERATE CRY FOR HELP..... IS ANYONE OUT THERE LISTENING OR ARE YOU WA...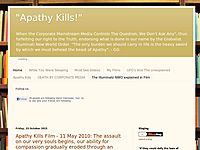 TIME TO HOLD THE UK MAINSTREAM MEDIA TO ACCOUNT In despair, victim George Rolph silenced. AND Killer, Iain Duncan Smith, Minister for Manslaughter URGENT UPDATE: This is a new low in David Cameron's depths of sadistic depravity. It...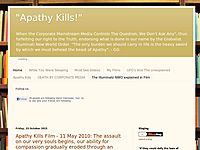 R.I.P. Stephanie Bottrill. Murdered By Government Absolutely sickening. Bedroom Tax suicide: Minister "Lord Freud" brushes off questions about Stephanie Bottrill The out-of-touch former banker also dismissed the 220,000 families affected by t...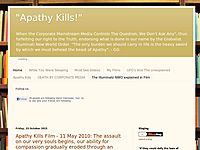 Today, he is in the UAE selling weapons as always, just as he has done on his now frequent arms dealing tours in the region ever since he began the "timely" Arab Spring in 2010, immediately after being placed in power by his former cabinet minister L...