Blog Posts - Ccnp Route 300-101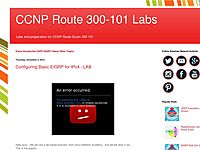 Welcome to this tutorial for CCNP ROUTE! As you probably already know CCNP Route is one of the three CCNP Routing & Switching exams.We invite you to try the different labs that I humbly prepare for myself and I would like to share wit...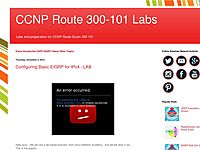 Routing process: How packets travel from one network to anotherThis is important to understand how your packets travel from your network to another one..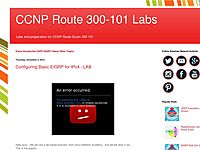 CCNP ROUTE Single-Area OSPF Link Costs and Interface Priorities Youcan download this lab from here : https://drive.google.com/file/d/0BwlOClLfe-axZ3lLajJRaUJBMDQ/view?usp=sharingTopology We are going to do a basic lab based on Cisco Netwo...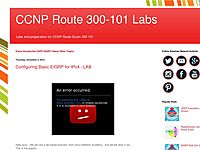 Please check our video of advance EIGRP for IPV4This is our personal lab but you can download it from hereAdvanced EIGRP For IPV4 Advance EIGRP for IPV4Hello Guys..We are going to use one more time a lab based on Cisco Network Academy .We are...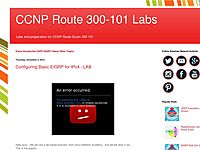 Hello guys ..We will use a lab based exercise from Cisco Network Academy ..And we will work it out.This is the graphic :We are going to have different values on this graphic to make your life easier:Instead of S0/0/0 we will use S0/0Instead of...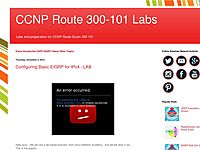 Configuring point-to-point GRE VPN LabI saw this exercise in this website:Google Drive-click here It was part of Cisco Network Academy. We wanted to do the lab.The graphic was this one: We need to understand this first: &n... Description: CCNP Routing and Switching ROUTE 300-101 Complete Video Course is a comprehensive training course that brings Cisco CCNP R&S ROUTE exam topics to life through the use of real-world demonstrations, animations, live instruction, and c...