Blog Posts - Cool Places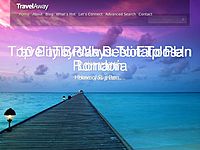 Running across a picturesque archipelago in Norway, the Atlantic Road (Atlantic Ocean Road) is one of the world's most scenic highways. Part of the Country Road 64, which connects the island of Averøy with the mainland of Eide, the spectacular str...
Poveglia is a small island located between Venice and Lido in the Venetian Lagoon, northern Italy. According to legend, during Roman times it was used to isolate thousands of plague victims, and during the three occasions when the Black Death spread...
According to Wikipedia the Dubai Fountain is a record-setting choreographed fountain system set on the 30-acre manmade Burj Khalifa Lake, at the center of the Downtown Dubai development in Dubai, United Arab Emirates. It was designed by WET Design, t...
50 states of America in 50 pictures.Illinois Arizona Massachusetts Houston, Texas New Mexico Kentucky Oregon Vermont Seattle, Washington New Hampshire Idaho Minne...