Blog Posts - Cottage Makeover
Complete Bathroom Makeover: More Pics Coming!Before / After - Bathroom was blue and brown and dull, now, it pops with Color! I did a total bathroom makeover using Annie Sloan paint. The walls were done in a wash of Antibes Green. I wanted...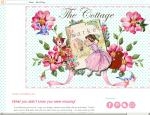 What is Take 5 you ask...well it is a collection of 5 things that I think you will all enjoy! It can be themed...random...food...crafts...home decor and everything in between. Hopefully you will love them enough to take 5 minutes out of your busy day...