Blog Posts - Country Lifestyle
Living on a farm does have it's advantages and adventures when it comes to growing your own food. I have always enjoyed escargot but never thought of farming my own till watching Gordon Ramsay harvesting garden snails from his garden, purging them th...
My Butternut Pumpkin FamilyThese pumpkin were last season's which we had kept down in the cellar. We harvested over twenty of them but a few weeks ago they started rotting and we couldn't figure out why. After going through the lot there was these th...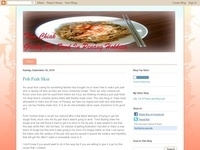 One of my favorite seafood must be mussels. Since living in Australia I have had the opportunity to cook with fresh black mussels as well as NZ green lip mussels. In Malaysia I have only had mussels that were already cooked. I realize now that it was...
Beautiful Country SceneryYesterday we went for a drive off the beaten track and came upon these beautiful flowers which I thought would be nice to share. I took several pictures of them and here they are. This is what makes it fun living in the...
Friend Or FoeA few mornings ago I discovered this tarantula on my bedside radio clock. I did not know what to make of it so I left it alone hoping that it would find it's way back out but it has decided to take resident on top of my radio clock and w...
It has been a while since I went fishing and catfish hasn't always been one of my favorite fish that was till recently. While we were away at a friends place the discussion of catfish came up as a really nice tasting fish. I was surprised by that an...
I have been wanting to take a picture of this pair of twin trees for ages now especially when it is in full bloom. They just look gorgeous. At first we were going to cut off one tree and just keep one but decided to leave them alone and this year we...
I kept telling myself that I should update my blog at least once a week but alas other stuff took over and I find myself lagging behind so today I am making a conscious effort to write something. If you have been following my blog somewhat you will k...
Where I live I have come to appreciate it more and more with each moment of each day. No matter what the season, hot or cold there is always something beautiful and magical about this spot. It has captured my heart through the time that I have spent...
It has been a while since I last updated my blog, lately we had several things going on and had kept us busy. The latest thing which we did was having all three pets shorn. I am glad for the wool/fleece to come off as the weather had been rather hot...
Spring is in the air and love is all around us. If I recall this came out of a lyric from a song. Well we are in the middle of Spring and all our grapevines are awake and growing everyday. As for our herb gardens they are also thriving. The fruit tre...