Blog Posts - Crankbaits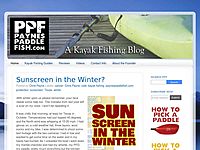 The age old question with a fishing twist: What's your favorite color? I spent some time with family this weekend, talking fishing, shooting some clays at a five stand and enjoying way too much food. Any time we talk fishing, color and style comes u...
It finally quit raining long enough to let us get in some quality fishing without being soaked! I heard on the radio it was the first day without rain since June 15. We launched from the Concord ramp. The water was murky to muddy dependin...
I fished in the Tuesday TNToad tournament on June 25th from 6-10pm and didn't do so great. We launched from Louisville Point Park and stayed in the mid-lake area. The weather was partly cloudy and in the mid 70s and very humid. ...
Fished in the TNToad out of the canal from 6:00 pm - 10:00 pm. The weather was windy and clear skies and around 75F degrees at launch and mid 60's at weigh in. The water temperature in the area I fished ranged from 63 - 67 F. We wei...
I was able to go out for a couple hours with one of my friends today after work. We launched at Concord Ramp at 2:30 pm and fished until 4:30 pm. It was about 55 F outside and was very windy again with bright blue skies. We fished the Ish Creek/Prate...
Joey and I took the boat out for the first time this year to make sure everything was working after several maintenance problems were fixed. We put in at Concord Ramp at around 2:30 pm and fished until 6:30pm. It was about 65 degrees outside an...
Put in at Concord ramp at 6:00 am and headed down the lake towards dam only a few miles. It was a windy morning but it felt great. I started out cranking a 5XD in shallow water so it would bang off all the rocks and immediately caught 2 short...