Blog Posts - Downlinerefs

Downlinerefs Review What is Downlinerefs? Downlinerefs is a referral-source for your free home business opportunities, like Paid to Click programs. With their service you can build a free downline, which allows you to make even more money in your pro...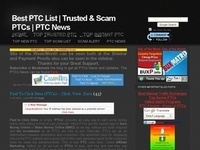 12 April, Sunday:Ara-bux : The site is temporarily closed because of the lack of funds and now asking their members to donate to keep the site alive. I never recommend investments and will not recommend donating also. Better to donate to some charity...