Blog Posts - Eggplant Dish

Our garden here in Sonoma is bursting at the seams with all the stuff we planted earlier in the year. I am starting to get overwhelmed with eggplants. I suppose that's what happens when one plants 4 different varieties of the...

When I stop and think about it, it seems as though 2012 was hardly here. One minute I was just plain cooking and writing, the next I was plunged into parental illness, and bobbing back there in the rear view mirror was the Mayan Ca...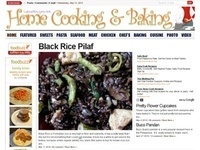 I learned how to make this dish from YouTube, it's an Indian vegetarian dish.  It's super HOT, my husband and I like it so much, especially with roti ( Indian flatbread) or tortilla to go with it,  I like to toast the roti/tortilla and...