Blog Posts - Emerging Designers
Style is eternal, like the elegance of a classic white dress. Lo stile è eterno, come l'eleganza di un classico abito bianco.The post Style is eternal – Classy Outfit from Moda Aesthetics appeared first on Fashion blog Coco et La vie en rose.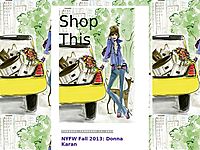 Not quite my normal illustration, is it? Well, as you know I like to change things up every so often. Inside this uptown city girl, hides another girl with an "edge." So, what is SPACE? According to Vogue it is "a new, permanent series of stores-in-s...
Vi presento Carla Stara, fashion designer emergente italiana. Moda e Arte. Meet emerging fashion designer Carla Stara. Fashion and Art. The post Carla Stara designer emergente – Emerging fashion designers appeared first on Fashion blog Coco et...
Ciao amori, ho selezionato per voi alcune luxury bags, un po' per farvi sognare, un po' per ispirare chi è alla ricerca di un accessorio unico. Hello my loves, I picked for you a selection of luxury bags: daydream a little, or get inspired, if you a...
Un meraviglioso progetto nato dal connubio tra moda e arte. An outstanding project stemming from the merge between art and fashion. G.Rousse and T. Tait. Continue Reading → The post Moda e Arte – Art and Fashion – George Rousse for...
EN - Good morning my princesses!After Summer Break, my beloved series on Emerging Designers is back. By the way, do you love this series as much as I do? Today we are getting to know Oboyi, accessory designer, who handles every piece of leather embra...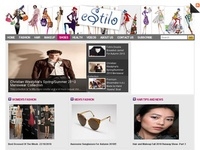 Simone Rocha can be considered one of the most prominent new faces of London Fashion Week this season! An esteemed designer, her collections bring out a dash of femininity and mystery that is unparalleled, and her comfortable attire ... Read More...
"You know that place between sleep and awake? That place where you still remember dreaming?That's where I'll always love you... Peter Pan. That's where I'll be waiting.""Sai quel luogo che sta fra il sogno e la veglia, dove ti ricordi ancora che stav...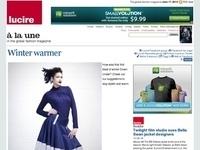 Chris Sullivan/Seen in Dunedin Mahshid Mahdian, from Brera Academy, Milano, won the ID Dunedin Emerging Designers' Award and its NZ$10,000 prize on Thursday night.    Mahdian's collection, Shadow, was inspired by shadows in Bura...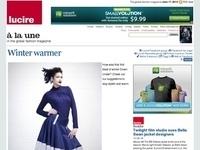 Matthew Beveridge/Matthew Beveridge Photography Otago Polytechnic graduate Rakel Blom won the ID International Emerging Designer Awards last night in Dunedin, with a collection that tapped into the Zeitgeist of global communities and cross-cultural c...

ONLY TWO WEEKS LEFT TO ENTER!Fifth Annual Centurion Emerging Designers CompetitionSponsored By StullerDeadline for Entries: September 30, 2012Winners Receive Complimentary Exhibit at Centurion Scottsdale 2013 &n...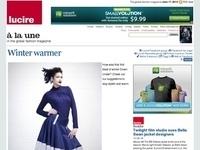 There's been plenty on the main part of the Lucire website that readers may have missed over the last month. In the 'Living' section, publisher Jack Yan has tested the BMW X3 Xdrive20d and, perhaps more down to earth for the majorit...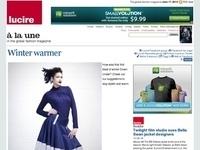 Above Stine Riis, winner of the H&M Design Award. København native Stine Riis, a 28-year-old graduate of the London College of Fashion, has been announced as the winner of the first Hennes & Mauritz Design Award. Her winning collecti...