Blog Posts - Explore France Discovering the world and my beloved Lyon on a go has never been easier thanks to GPSmyCity mobile app! Let me tell you about my new discovery to explore the world! I used to like visiting places without a map…always! Continue reading The post... The List of 50 strangest, interesting, odd facts about French Food So what is it so special about French and Food? Actually, there is a lot! I am sure even though you have some ideas about French people already or Continue reading The post The List o... Top 20 Symbols of Lyon in Photos Today, I have an interesting proposition for you. I would like to show you the main symbols of Lyon. I am sure you know few already very well, maybe even all. I hope Continue reading The post Top 20 Symbols of Lyon in... 25 Things That Will Surprise You About Lyon Let's learn something new today 😉 Gosh, do I sound like a teacher? Oh well, I wanted to be once a teacher as a kid…but anyway…not learning about Lyon the school way Continue reading The post 25 Thi... Find out what Places you should visit in Alsace and Why! This year I made myself the real French Christmas experience, left my Polish traditions just this one year to discover what France has to offer for Christmas. And I Continue reading The post Fi... 10 Top Reasons on Why You Have to Visit Strasbourg! As I promised I am coming back to Strasbourg which is a place that deserves much more space to be properly described! I can bet you have heard of it Continue reading The post 10 Top Reasons on Why Y...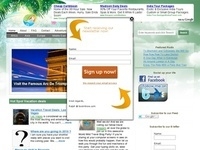 When travelling to a city that you've never visited before, what is it that attracts you about the place the most? Is it the people so you immediately go to the most famous local eatery to mingle with the locals? Or maybe you're the type to go on...