Blog Posts - Festival Mawazine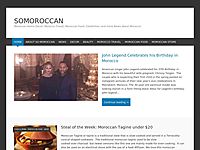 Moroccan music festivals are paradise for enthusiasts who are passionate and crazy about music! Songs and tunes with a Moroccan touch are best described as haunting, exotic, and stirring. There is so much cultural variation in this place, it now has...
Encore une fois on nous fait la surprise! Les plus grands artistes du monde que ce soit du monde arabe ou des états unis.La liste ci-dessous n'est pas exhaustif mais peux vous donner une idée sur la grandeur de l'événement.J'espère que pour la...
Abdelfatah GriniA chaque édition du festival, un nombre important d'artiste est invité à y participer mais ce que beaucoup de personnes ignore c'est que plusieurs artistes refusent d'y participé.Voyons ce que Abdelfatah Grini a dit lorsqu'on lui...
C'est un monument de la musique britannique et internationale que le festival Mawazine a présenté à la presse. Yusuf Islam sera en concert lundi 23 mai sur la scène Soussi. Après avoir rencontré un grand succès dans les années 1970, Cat...