Blog Posts - Filsafat Komunikasi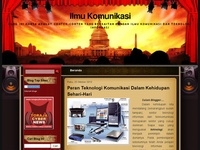 Joseph Straubhaar & Robert La Rose dalam bukunya Media Now, menyatakan; the Avarege Person spend 2600 Hours per years watcing TV or listening to radio. That,s 325 eight-hourdays, a full time job. We spend another 900 hours with other media, inclu...
1. Paradigma KlasikA. Filsafat sebagai akar Ilmu Komunikasi.Filsafat merupakan pangkal ilmu pengetahuan yang mengillhami ilmu-ilmu lain yang belakangan lahir. Begitu juga dengan Komunikasi. Pakar-pakar Komunikasi sepakat bahwa landasan ilmiah ilmu-il...