Blog Posts - Flights To Japan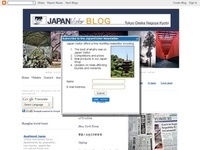 Well… I have visited Japan fourteen times now. Not meant as bragging, but as an indicator of how much I like the country. My Japanese blogger acquaintance who lives in Fukuoka says I should receive a medal from the Japanese Bureau of Tourism. (B...
Japan is best known for its Cherry Blossoms and Pagodas (Photo source: WallpapersWide.com) Expect the number of Filipinos visiting the Land of the Rising Sun to rise once this provision is approved. To make their country more tourist-oriented, t...