Blog Posts - Function Module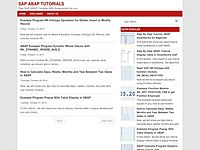 Now we will show you how to add record to infotype 2011 in SAP HR(Time Event) with function module HR_INFOTYPE_OPERATION. The table for Time Event record stored in table TEVEN. The code below will add new record to table TEVEN with value logical date...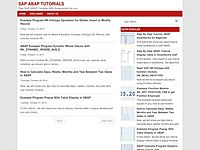 Now we will explain how to delete Education Infotype (Infotype 22) Record, with function module HR_INFOTYPE_OPERATION. First we need to read infotype 22 with function module HR_READ_INFOTYPE and then we will delete selected record. The function modul...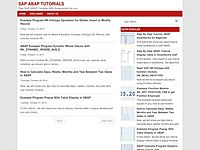 With function module RH_DYNAMIC_WHERE_BUILD we can specify what condition we should add or remove from SQL query select. condition clause stored in internal table and we can modify it corresponding with all we need.Please check this code exampl...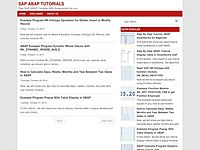 Now, we will show you tips how to calculate days, weeks, months and year with use function module HR_99S_INTERVAL_BETWEEN_DATES. With that function module you can easily calculate all you need. here we show the example code and the output will be gen...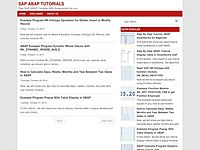 In this article , we will show you how to display internal table in popup window and you can choose one. We can use the function module POPUP_WITH_TABLE_DISPLAY. The example program below, value which have been chosen stored in variable lv_choos...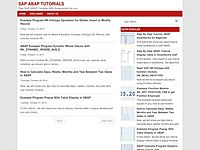 This example program below will explain to you, how to use function module RH_GET_POSITION_TAB to get the position from personnel number.Sometimes in HR module, we have requirement to get postion and we must select from HRP table.With this function m...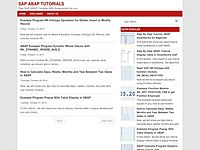 In this example program will show you how to display popup to select month and year. We can use function module POPUP_TO_SELECT_MONTH. The format variable lv_actmonth is YYYYMM.Popup will display :DATA : lv_actmonth TYPE isellist-...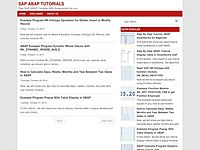 Now we will try to explain you about using Function Module HR_READ_INFOTYPE to Get information from Infotype fro module HR. Below code is example for how to read record Infotype 22 (Education).Lets check below code.DATA : lv_begda TYPE...
SAP ABAP Function Modules, Complete list of function modules in SAP ABAP. Useful function modules for ABAP programmers. ABAP function modules with explanation. Useful SAP ABAP Function ModulesWelcome to SAP ABAP Interview questions, here we are prese...
Important Useful Function Module Names for SAP ABAP Consultants, here SAP ABAP Interview Questions presenting list of Important Function Module Names for SAP ABAP Developers.This article will be helpful for novice, beginner and experienced ABAP consu...