Blog Posts - Gig Photography

We were at the O2 for Michael Bublé's To Be Loved Tour on 5th July 2013...One word to describe him: AMAZING!

If you know me in real life, you will know that I ♥ Darren Hayes, if you read my blog fairly regularly, you'll know that I ♥ Darren, from the amount of posts (10 - I just counted!) I've mentioned him in! I've shared my experience at two of his mo...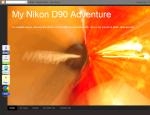 The Calvinists (processed in Lightroom) ISO 1600 35mm f/10 1/80 sec  So a few weeks back, my brothers band The Calvinists were...