Blog Posts - Gold Boots
Related articles Did You Wear These in the '70s? Fashion Trends That 1970s Kids Will Remember All Too Well Denim & Caravelle Ask A Stylist — July: Emily & Merrit Takeover MBFWA: 7 Things We Learnt From Australian Fashion Week The post...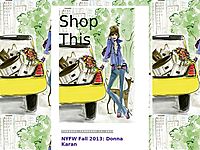 The Holiday Season is the time to shine. During my retail stroll yesterday, I saw plenty of sparkle, and not all of it was good. All sequins are not created equal, and some are down right tacky. Head to toe sparkle is not necessary, but a few shots o...