Blog Posts - Green Britain Day
Check out the Green Britain Day website;Green Britain DaySeven Ticks For Organic Gardening!Organic gardening is the way of growing vegetables and fruits with the use of things only found in nature. Why would one want to indulge in organic gardening?1...
Green Britain Day - 2 days to go!In one of my earlier posts I briefly mentioned the on-going food-labelling saga, and how food companies are making their products appear to be healthier for you than they actually are, simply by manipulating the way i...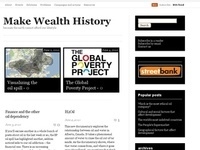 Thanks for all the support and for making a big fuss about Electricite de France and their silly antics with our flag. You'd be forgiven for thinking they were trying to kill us off! The Green Jack has been at the heart of all we do for a long...
So, 10th July 2009 is 'Green Britain Day' - but why have just one day?Check out the 'Green Britain Day' website here;Green-Britain-DayBut, why not make EVERY day a 'Green Britain Day'?All you have to do, is do something 'green' for yourself every day...
In one of my earlier postings, I showed how plastic bottles could be re-used as mini-greenhouses in the garden - well, here's another garden use for those same plastic bottles!As before, just cut the bottom of the bottle off, and remove the cap - the...
Only 4 days to go to 'Green Britain Day'!As you will know by now, I am a fan of being green.To me, being green means living in such a way as to minimise my impact on my environment, to use minimal natural resources, and to try and benefit my environm...
Do your bit for your wallet and your planet!I know - you're sick of being preached at to save energy, recycle, and generally live more efficiently! So am I! The information put out by governments and big business is usually bland and not very product...