Blog Posts - Guest Commentary Hello Making Money Fast and Slow, I am Pete Davis, a staffer at Ralph Nader's Center for Study of Responsive Law. For the past six months, I have been working on raising the minimum wage in the District of Columbia. If the 1968 peak federal min... YouFolio can help you stand out from your peers, and ultimately, help you get hired. A one page resume isn't enough anymore. You need to tell your story, and YouFolio can help you do just that. By signing up with YouFolio, you can showcase and... Dividend Reinvestment Plans, also known as DRiPs, are considered by many investors to be one of the single most powerful tools for building a successful long-term portfolio. The concept of a DRiP is simple: instead of quarterly dividends being paid o... When it comes to choosing stocks for a portfolio, there are two primary methods employed by investors: fundamental and technical analysis. Fundamental and technical analyses are vastly different techniques, but they strive to accomplish the same goal... How does one value food? There are many different variables: taste, price, quality, emotional experience association (Ben & Jerry's late night binge). In order to understand the subconscious thought patterns our brains use regarding our nutrit...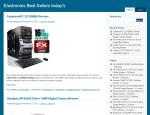 When a wave of frustration and outrage about the killing of Trayvon Martin crashed across North America, there is no doubt that countless Michigan residents were caught up in the tide of a public debate that began to ebb only after George Zimmerman,...