Blog Posts - Healthy Masculinity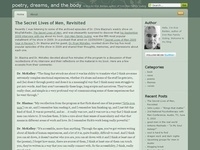 All posts from my original blog poetry, dreams, and the body (an archive of about 350 posts created over the last six years) have been lost due to a software error in the blogging platform. All attempts to recover from … Continue reading →...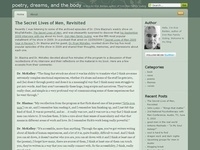 "If you bring forth what is within you, what you bring forth will save you. If you do not bring forth what is within you, what you do not bring forth will destroy you." - The Gospel of Thomas, v.70, … Continue reading →...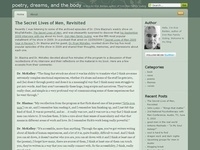 my eyes go where they want to go and they're always looking for the perfect curve. my mind knows what it wants to know and it wants knowledge of the perfect curve. what is it about the female form more … Continue reading →...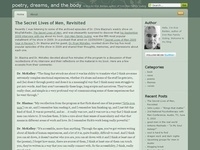 "You have to fail over and over in order to become a man." ~ James Taylor, Time magazine, 1997 If James Taylor is right, then surely I must be a man by now. My failures are legion: love, work, family, … Continue reading →...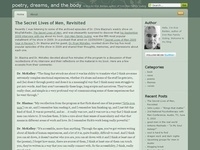 Given that I've been blogging for a number of years now, and given that my circumstances haven't permitted me to write anything new for the last several months, I thought this would be a good time to collect some of … Continue readi...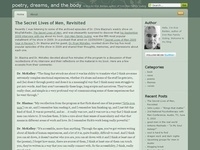 Over the last few years, I've seen more attempts than I can remember to define what constitutes appropriate and proper (often characterized as "healthy") manhood and masculinity. Some of these efforts are clear, grounded, and helpfu...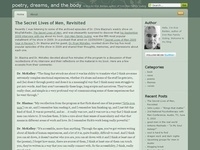 I was browsing tweets with the #masculinity hashtag on Twitter this morning and came across the item shown above posted by @Jfallout1212. I responded as follows: "There is a masculine mode of feeling equally as deep as feminine. Men needn'...