Blog Posts - Hello 2015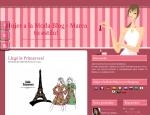 A todos los lectores y seguidores del blog sólo quiero desearles un ¡Feliz año nuevo! Sígueme en Twitter ♥ Blog...
On the first day of 2014, I did this post where I made a list of stuff related to 2013. I'll be making it a tradition of some sort just for a quick recap of how my 2014 went. It's always fun (and a bit sad) to look back and reflect on what happened a...