Blog Posts - Hidden Copier
Some time ago we shared a post about How To Copy Usb Drive Data Automatically In Your PC. with USB Hidden Copier. Here is the new version of USB Hidden Copier. USB Hidden Copier 2.0 comes with many improvements and features and with the most requeste...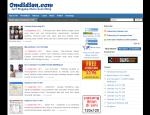 ::  USB Hidden Copier ::   Hati-hati, program ini akan menyalin (copy) setiap konten atau isi USB drive ke hard drive Anda tanpa terdeteksi oleh pemilik USB. Dengan tanpa terlihat dan tersamarkan, software ini dapat dijalankan tanpa deteksi pen...