Blog Posts - Hovercraft Flight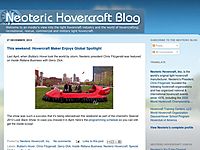 No doubt about it – a Neoteric hovercraft is the next level of cool. That's why the media keep us so busy. What's up next? Move over, Bubba's Hover - the Neoteric Hovercraft Golf Cart has been chosen to star in the pilot episode of an upcoming...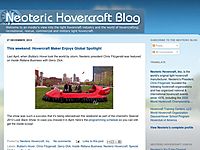 The North Muskegon Fire Department in Michigan, which has utilized Neoteric rescue hovercraft for three decades, hosted an inaugural statewide Ice Rescue Conference and Education Day Saturday, attended by numerous fire and rescue departments and the...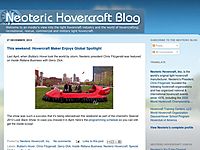 There's no question that hovercraft attract attention. And the media just can't get enough of the Neoteric HoverTrek™. So, move over, Bubba's Hover, because you're about to be upstaged: Neoteric customer Gary Meyers and his hovercraft (na...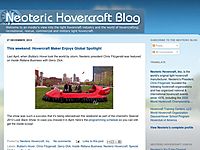 Keeping students engaged in the learning process is possibly a teacher's greatest challenge. Understanding the amazing ability of hovercraft to captivate audiences of all ages, Neoteric and President Chris Fitzgerald have long been actively involve...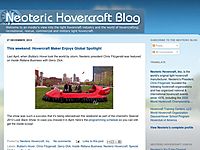 When Neoteric President Chris Fitzgerald boarded his HoverTrek™ to participate in the Hoverclub of America's Wabash Cannonball Cruise, he really 'put on the dog' – his 3-year-old poodle mix, named Zoe! (But be forewarned: if you refer to Zo...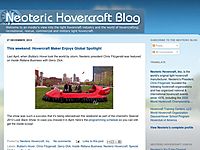 Hovercraft not only serve a valuable role in animal rescue – they can also be a source of entertainment for man's best friend! Enjoy a flight on Lake Havasu in Gary Meyers' Neoteric hovercraft with his dog Joey – sporting Mutt Muffs and sungl...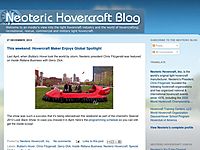 Here's a way to let Cupid take flight like never before: Give your significant other the gift of a joyride on a Neoteric Hovercraft – the makers of Bubba Watson's hovercraft golf cart! This is a chance to hover like Bubba on water and land at t...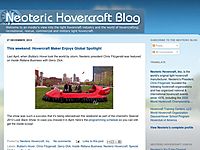 How many people buy a car before they learn how to drive? Even as a licensed driver, would you buy a car without taking it out for a demo? Of course you wouldn't. That's why Neoteric has a "Fly Before You Buy" policy: We highly recommend...