Blog Posts - Ibm Champion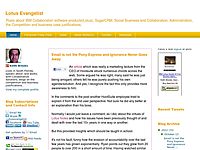 Who knew so many people still had Lotus Quickr? See IBM I told you people love it still.There are many things to think about during a migration of data, most of which you as the client will not think about, or even know about, until you have moved an...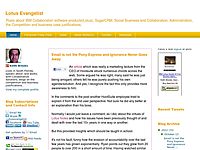 "We've got five years, what a surpriseWe've got five years, my brain hurts a lot"..David Bowie, Five YearsIBM has granted me another year as their ambassador. Well, me and 122 other friends and colleagues. You can read the announcement here. Congratu...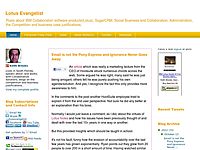 My last Lotus Quickr customer is moving off of Quickr by December 31st.I love Quickr, still do, but time marches on and maybe you found yourself looking at Quickr wondering:How do I secure this box? You have options, and hopefully have used them, but...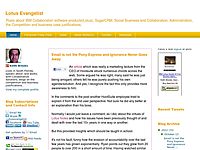 For the 4th year in a row I have been named an IBM Champion. It was extremely unexpected and I thoroughly believed my 1,000th blog post would be a farewell post. For the record this is post #997 of this blog.It seems the judges have other ideas and i...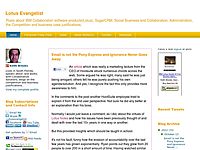 What an amazing day I had yesterday! So full of life and learning, every day of work should be this great!How did it get to be this way? What did I do? Who did I meet? Where was I?My day started out like any other day, get up, wake up the kids, walk...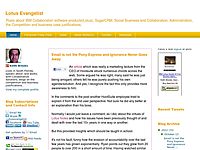 So you, thought you, might like to, go to the show. The annual Lotus, IBM show known as Lotusphere IBM Connect now IBM ConnectED. Well, you got lucky today. I am going to give you some insights to this year's edition.Whether you have a room at the...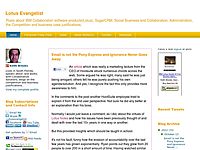 On Slideshare are my slides from today's Social Connections VII session from Stockholm.Off the cuff speaking and the ONLY session at #soccnx that was done in Lotus Yellow.If you need help with adoption, please let me know, I am in Europe and happy to...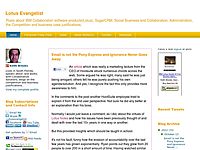 "Congratulations and Happy New Year - you have been selected as an IBM Champion for WebSphere software! " I am stunned and amazed at this recognition, what can I say beyond thank you to the selection committee and my friends, especially Dave and S...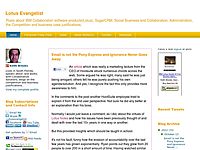 I heard from some friends before I received the official email from Joyce that I am now a 2013 IBM Lotus ICS Champion. I was on a PMR call and missed the Community meeting. You can see the entire list of the 2013 Champions here. I have not blogged...