Blog Posts - Indonesian Food Recipes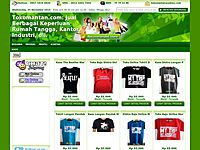 Bisnis makanan merupakan lahan basah atau dengan kata lain "bisnis makanan" merupakan lahan yang sangat berpotensial menghasilkan pendapatan/ penghasilan menggiurkan. Terlebih lagi bisnis makanan yang sudah berjalan secara otomatis/ sudah...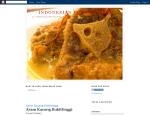 Rempeh Beef and Coconut patties ballIngredients: 200 gr minced beef. 100 gr dessicated coconut. 1 garlic clove. 1 teaspoon coriander. ½ teaspoon cumin. &n...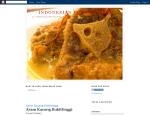 Besengek DagingSpicy Beef dish cooked in coconut milk. Use a lean, whole cut of beef like "topside" or "silverside".Ingredients:Besengek Daging 500 gr Beef. 1 onion. 1 teaspoon trassi. ...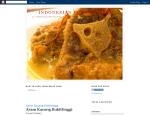 Hati AyamTasty Chicken livers in a Peanut and Coconut sauce. Ideal side dish with the rijsttafel.Ingredients: 250 gr. Chicken livers. 2½ cm. Fresh Ginger. 1 Large Onion. 1 Clove...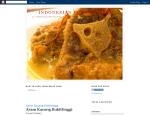 Bubur AyamThis dish is best discribed as a savoury "rice-pudding". It makes a tasty lunchtime dish, or, if you're one of the converted, a nice breakfast dish to see you through the rest of the day.Ingredients:Bubur Ayam 1 Chicken (a...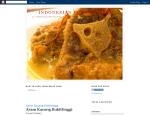 Ajam Djahe ManggaA quick dish of stir fried chicken with ginger and mango. Best served with white rice and a ginger sauce. Ingredients: 4 Chicken breast 3 cm. Fresh Ginger root 2 Spring onions&nbs...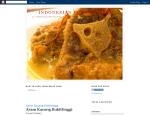 Kalio ayam - Chicken in spicy coconut gravyIngredients 1½ kg baby chicken, cut into 8 pieces 750 ml (25 oz) coconut milk 500 ml (17 oz) coconut cream (thick coconut milk) 5 cm (...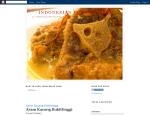 Indonesian Food Recipe : Mixed Spicy Chicken(Ayam Bumbu Rujak) Indonesian Food Recipe Ingredients* 3½ lb. young chicken, cut * into frying pieces * ¼ cup sliced shallots 3 cloves garlic, sliced * 2 tsp. crushed dried red hot chili * 5 candlen...