Blog Posts - Infosys Foundation
Infosys Foundation supports Akshaya Patra by contributing a generous amount to cover the cost of kitchen construction.MLA Shri T Harish Rao waters a sapling planted at the site in the presence of Smt Sudha Murty, Madhu Pandit Dasa, and other Akshaya...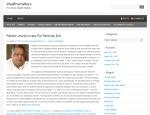 Sudha Murthy is the wife of N.R. Narayana Murthy,Founder of Infosys.She is the Chairperson of Infosys Foundation.Here is a story I found today.In it she narrates how JRD influenced her life.Enjoy! "There are two photographs that hang on my offi...