Blog Posts - Israeli Independence Day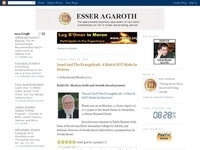 כ"ג לחודש השני תשע"הMohamed Abu KhdeirMost of you have heard about the Israeli Government's attempt to include Mohamed Abu Khdeir on its list of victims of terrorism, whom were memorialized on Israel's recent Memorial Day (ג' אייר...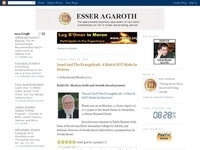 ו' לחודש השני תשע"דTablet Magazine: American-Raised Rabbi Aharon Lichtenstein Wins the Israel PrizeLeading Modern Orthodox rabbi and political dove to receive awardYair Rosenberg, February 23, 2014Rabbi AharonLichtenstein...Lichtenstein...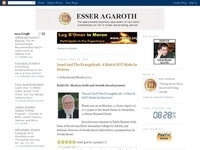 ערב שבת קודש פר' נשא תשע"גArutz 7: Israeli Students Mourn Establishment of IsraelA group of Arab and Jewish students protested against the "nakba" at Tel Aviv University, and were countered by pro-Israel protestersDavid Lev, May...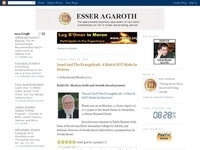 ח' לחודש השני תשע"גThe Arabic language news site Panet reported on a Jewish demonstrating on Israeli Independence Day, which was observed on Tuesday. (Tip Credit: The Kashnikover Rebbe)Google Translate's version of the article in...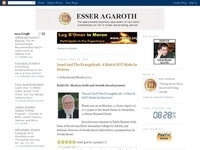 ה' לחודש השני תשע"גIsraeli Independence Day(Israeli Memorial Day - observed)The siren went off this evening at 8:00 PM, one of two sirens sounded on Israel's Memorial Day. The second will go off tomorrow morning."Day of Remembrance fo...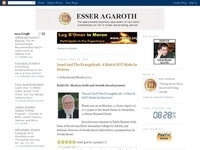 ד' לחודש הראשון תשע"גSpring Holiday Season is upon us. Past, present, and soon to be holidays are all represented here, along with the usual Torah, news, current events, and slices of life posts.But, first, don't forget to check in to...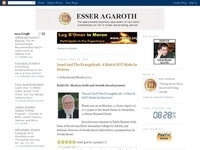 מוצש"ק פר' תזריע-מצורע תשע"גErev Shabbath, the neshamah of HaRav HaGa'on Ya'aqov Hai ben HaRav Ovadiah Yosef ztz"l, passed into the next world, and he was laid to rest in Jerusalem.About a year and half ago, a tumor was found in...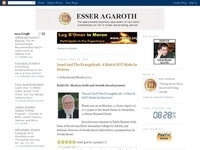 Yom Ha'Atzma'uth 5772Israeli Independence DayBold and color highlighting, as well as photo doctoring by Esser Agaroth. Obama's New 'Atrocities Czar' Is Globalist Doctrine Founder Samantha Power- charged with using war to achieve 'radical valu...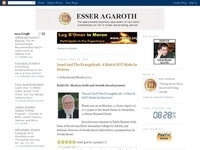 3 of the Second Month 5772Israeli Memorial Day ObservedIn honor of the fallen Jewish soldiers who saved Jewish lives, and participated in defending the borders of the Land of Israel, here are my Top Ten Reasons For Joining the Israeli Defense Forces...