Blog Posts - Jesus Generation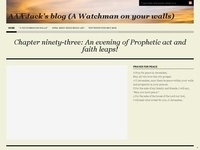 Look Up When I think of all this, I fall to my knees and pray to the Father,[e] the Creator of everything in heaven and on earth.[f] I pray that … Continue reading →...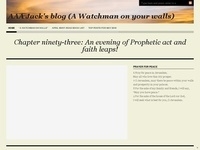 Yesterday I encountered a set-back. Some important documents could not be located at the usual filing place. A locked place accessible to only three persons. I lost my cool because … Continue reading →...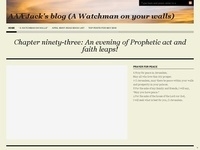 God raises men and women to become His watchman for a season, an appointed time, a specific assignment in their lives. In the Old Testament, the prophets serve as watchmen in … Continue reading →...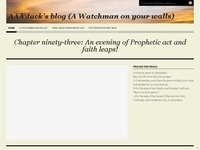 The verses came out this morning when the watchman used his phone to message his loved ones, sharing how he has received God's super-abundant supernatural blessings to his prayers. He … Continue reading →...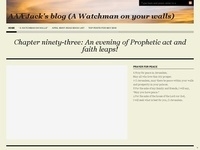 I want to thank WordPress for the opportunity to blog here. When I first decided to move from my former site in 2009 I chose WordPress because the name "Word" … Continue reading →...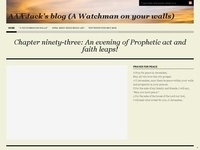 This morning I woke at 2:44am from a vivid Christmas end time dream of two parts: the first part shows the end time thief who blatantly comes in to steal, … Continue reading →...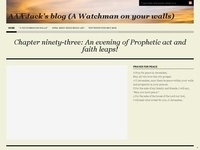 God sent His Christmas present through the preaching of a small church's junior pastor last Sunday. He was following his routine sermon series throughout the season and finally came to … Continue reading →...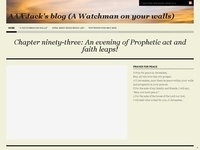 The key success factors used by Jesus (while on earth as a human), Apostle Paul and Prophet Jonah to overcome the raging storm (adversities and adversaries) around them are: Know … Continue reading →...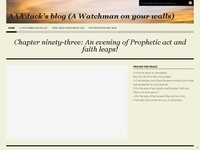 Some years back, we read of people born in different periods being classified as generation X or generation Y etc. The social classifiers (mostly commercially linked) tried to put people … Continue reading →...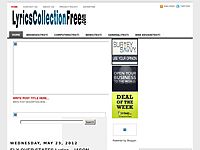 JESUS GENERATION By: HILLSONG UNITED Album: BESTFRIEND VERSE Let the Earth rejoice See the risen King On the clouds of praise He's exalted forever VERSE We will rise with Him Son of righteousness And the Earth will shake In the glory of...