Blog Posts - Just So Having been to Just So Festival in 2015 as a complete newbie to family festivals and absolutely fell in love with it, we were super excited when their creators, Wild Rumpus, invited back to their 2016 offering.. One questioned remained though….
Sonny Boy rules my life (no, I'm NOT proud of it). He has rules for everything. He has rules for every ritual in his life  -- each activity in his everyday life is a ritual. I'm not joking, its FRUSTRATING. Here's what's pissing me off these days...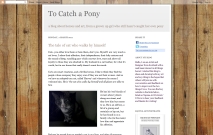 Cats...you either love them or hate them, don't you. Myself I am very much a cat lover, I adore their affection, their independence, their lofty natures and the sound of deep, rumbling purr which conveys love, trust and above all loyalty to those the...